Matt Pond PA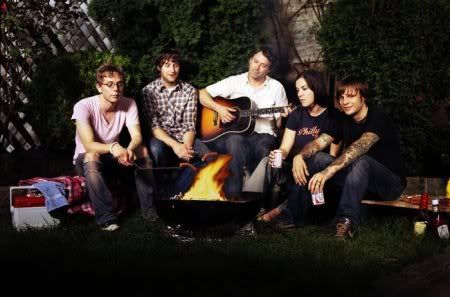 I really don't know why it took me so long to mention this wonderful band. I've been in love with this band and their chamber indie/pop music for a while now. Maybe it's my obsession with the cello, or maybe it's singer Matt Pond's wonderfully abrasive voice, but there was a period of time where I exclusively listened to these guys. A lot of their songs are musically upbeat, with simple driving bass lines and tap-your-foot-along-with-the-beat drums. Some, however, are beautiful and longing, relying heavily on the cello to push along the melody. Pond writes a majority of his songs about the wilderness and nature, with many references to lakes, trees, fire, and the weather. He imposes a beautiful sense of lonliness in a lot of his songs, paralleling the lonliness of a vast open stretch of wilderness. That sounds a little cliche' but he pulls it off really well. They've made an appearence (musically) on the O.C. and on the O.C. Mix Volume 4, and even have a wonderful cover of Neutral Milk Hotel's "In the Airplane Over the Sea." Expect a new full length from them by the end of year. I reccomend checking out "Promise the Bite" and "Measure 3," two of my favorite songs.
From
Deer Apartments
MP3
Possibilities of Summer
From
The Nature of Maps
MP3
Closer
From
Measure
MP3
The Hollows
From
The Green Fury
MP3
Measure 3
From
This Is Not The Green Fury
MP3
Lily One
From
Emblems
MP3
Graves Disease
From
Winter Songs EP
MP3
In the Airplane Over the Sea
From Live Performance in Middle East, MA - 10.12.2001
MP3
Promise the Bite (Live)
From @ KEXP Session
MP3
KC (Live)
Check out their neat website
here
and
buy their music
at Insound.
___________________________________________________________________________
Odds and Ends
Of Montreal
is planning an extensive summer tour. Check out the dates
here
.
FUNTIME OK
has an awesome set of Intonation previews on
Thunderbirds are Now!
and
The Decemberists
.